Spinal Decompression at
Dynamic Physiotherapy and Wellness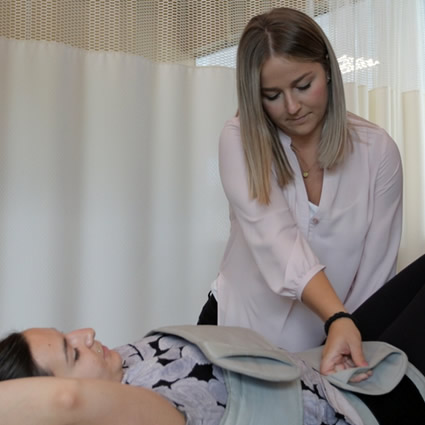 If you have disc-related pain, you may be considering drastic measures like surgery to relieve your pain. At Dynamic Physiotherapy and Wellness, we may offer a solution in the form of nonsurgical spinal decompression. It helps people who have neck and back pain, including
Chronic neck or back pain
Disc degeneration or herniation
Facet joints degenaration
Neck or back spasm
Radiculopathy
Sciatica
Spondylosis
Strenosis
How Does Spinal Decompression Work?
Spinal Decompression slowly lengthens and decompresses the spine, creating negative pressures within the discs. This reversal of pressure creates an intradiscal vacuum that helps to reposition bulging discs and pull extruded disc material back into place, taking pressure off pinched nerves. Spinal experts believe that nutrients, oxygen, and fluids are drawn into the disc to create a revitalized environment conducive to healing.
What are the Treatments Like?
At the beginning of each session, you will be comfortably fitted with a harness designed to achieve optimal decompression of the low back or neck. During a session of spinal decompression you will notice a slow lengthening of your spine as your discs are gradually decompressed and relieved of pressure. The treatment process is safe and relaxing. Each treatment session lasts approximately 30 minutes.
When you have spinal decompression, there is no pain involved. All you'll feel is a good, gentle stretch that pulls at your neck or back. You may be sore for 24-48 hours following spinal decompression.
Spinal decompression is used in conjunction with physiotherapy or chiropractic. If appropriate for you, your provider will discuss the benefits of spinal decompression and why they believe you can benefit from it.
Learn More Today
Contact our team now to get answers to your questions or to schedule your first appointment! Direct billing is available.
CONTACT US »

Spinal Decompression Spruce Grove, Stony Plain AB | (780) 962-0724