Meet the Team
Dr. Laurie Taskinen, Chiropractor
Dr. Laurie started her postsecondary education at the University of Alberta Augustana, where she played soccer for 3 years. In her last year at the U
of A, she decided she wanted experience in the rehabilitation field and became a trainer for the minor midget AAA hockey team in Camrose. She then went on to the University of Western States in Portland, where she graduated with a Doctor of Chiropractic degree. Although Dr. Laurie provides chiropractic care to a wide variety of patients, she particularly loves caring for little ones, mothers-to-be, and new mamas. In her spare time, she enjoys going on hikes or spending time at the dog park with her Bernese Mountain dog, Hudson.


Dr. Sana Robinson, Chiropractor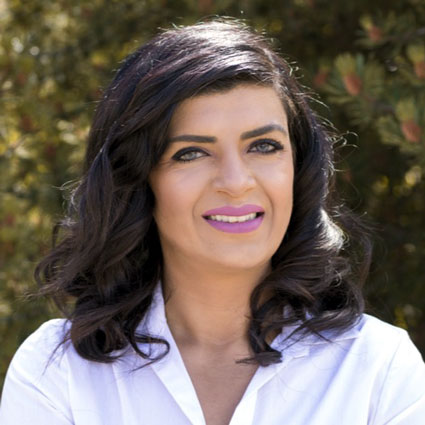 Dr. Sana received her Bachelor of Science with a major in Psychology and pre-medical concentration from Wayne State University, Detroit, MI, USA, and her Doctorate of Chiropractic from the prestigious Canadian Memorial Chiropractic College (CMCC), Toronto, ON, CAN.
In practice, Dr. Sana utilizes a variety of different techniques and methods including Diversified Manual adjustments, Instrument assisted adjustments, Thompson Drop adjustments, Kinesiotaping, Graston technique, Mobilizations, Manual Release Therapy, Cupping Tissue Decompression Therapy, Percussion Therapy, Shockwave Therapy, Laser Therapy, and various physical therapy modalities
and methods. Dr. Sana looks forward to meeting you and helping you & your family achieve your health & wellness goals.
She believes in providing holistic, evidence informed and patient-centred care. This means that your treatment plan is developed after careful consideration of the latest evidence, her clinical experience/opinion and your preference for the treatment options available to your unique case.
Dr. Sana looks forward to meeting you and helping you & your family achieve your health & wellness goals.
Ashvin Patel, Physiotherapist
Ashvin finished his Bachelor of Physiotherapy in India, then received a diploma in fitness and health promotion (with honours) from Humber College in Toronto. After finishing further study, he moved to Alberta, where he has been providing physiotherapy services for more than 5 years.
Currently specializing in musculoskeletal conditions, Ashvin also has a special interest in managing chronic myofascial pain, headaches, sports-related injuries, and whiplash-associated disorders and providing post-operative rehabilitation.
In his practice, Ashvin uses a wide variety of treatment approaches, including exercise prescription, symptom management using therapeutic modalities, IMS, taping, hands-on approach, decompression, and shockwave therapy.
Ashvin's goals are to keep you moving and help you maintain, restore, improve your functional, recreational, and occupational capabilities.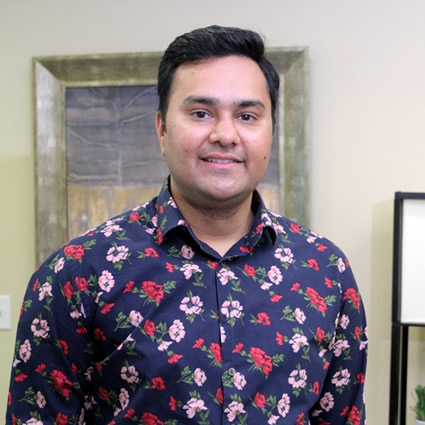 Vrajesh (Vraj) Modi, Physiotherapist
Vraj has been practicing as a Physiotherapist in Canada since 2016. He has a Bachelor of Physiotherapy from India that he received in 2013 as well as Fitness and Health promotion in Canada received in 2015.
He has a special interest in musculoskeletal physiotherapy and provides treatment to all ages patients starting from age three. He offers a wide variety of treatment including manual therapy, IMS/ dry needling, mobilization, cupping, soft tissue release, shock wave therapy, spinal decompression, electrical modalities, exercises program, postural correction, energy conservation, and physiotherapy consultation.
When he is not working, Vraj enjoys playing table tennis and volley, practicing his photography, and cooking.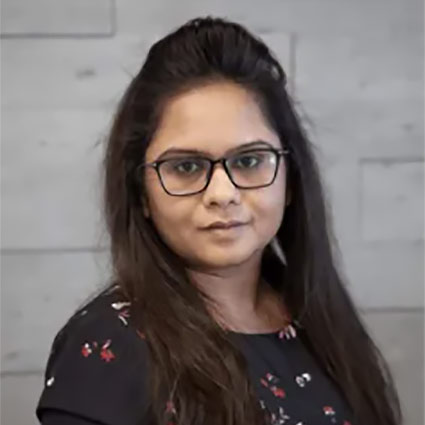 Rutu Desai, Physiotherapist
Rutu obtained her Physiotherapist degree in India. She has more than five years of experience. In her treatment, she incorporates manual therapy, different types of modalities, and active therapy (exercise programs). She believes education plays an important role in her patients' recovery and it is a key part of her therapy. She uses a biopsychosocial approach to enhance patient recovery.
She is also certified to perform Dry Needling/IMS techniques and incorporates needles to uplift the over-all-effect of care. She is certified to treat Pelvic Health related problems like urinary/bowel incontinence, menstrual cycle-related pain, IBS, Sexual pain, etc in males and females.
She takes a keen interest in musculoskeletal injuries and pain, women's health, and sports injuries. She also treats patients with neurological & cardio-pulmonary problems.
Rutu loves her life, and a big part of her life is work! She enjoys working with people and helping them get better in their daily functions. For her,
seeing her patients progress is very rewarding and that keeps her motivated to go above and beyond for her patients!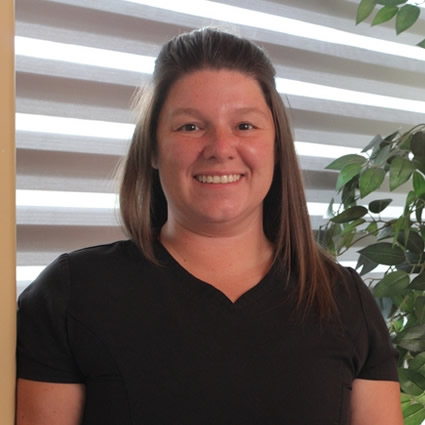 Melissa Griffin, Registered Massage Therapist
Melissa has completed the 3000 hr program at Makami College of Massage Therapy, she has been practicing now for 5 years. Melissa has worked with a vast range of conditions and creates a specific treatment plans that will individually suite her client's needs. Melissa's education includes Therapeutic Massage, Deep Tissue Massage, Cupping, Trigger Point Release, Myofascial Release and TMJ. Melissa will use her knowledge of the body and massage techniques to reduce pain, tension and discomfort.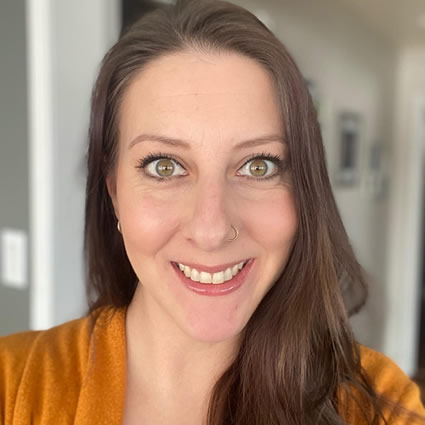 Lindsay Collins, Massage Therapist
My name is Lindsay Collins. I worked in the oil field for over 13 years in Fort McMurray I did a lot of backbreaking work and I got tired of being sore and in pain so I made the career change to become an RMT.
I'm a 3000-hour registered massage therapist from Makami College with over 8 years of experience. I specialize in deep tissue, hot stones, and cupping. My goal at the end of the day is for my clients to live a pain-free and enjoyable lifestyle.
If I'm not in the clinic treating clients, you will probably find me on the farm where my family and I raise livestock. I'm always outside doing chores around the farm or just playing with the animals. And when I need a little break, I love to take my horses to the mountains.
I understand that life is busy, but we all need to take a moment and do some self-care so that we can continue to live a pain-free lifestyle. I look forward to meeting you and creating a treatment plan that suits your needs.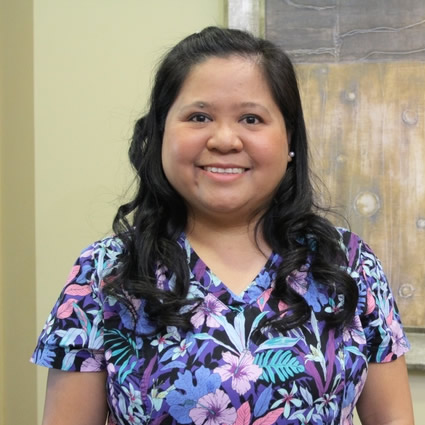 Karen,
Physiotherapy Assistant

Leigh, Physiotherapy Assistant
Kimberly, Physiotherapy/Chiropractic Assistant
Kaitlin, Physiotherapy/Chiropractic Assistant, Administrative Staff
Mady, Administrative Assistant
Sarah, Administrative Assistant
Dorothy, Office Manager

Dynamic Physiotherapy and Wellness Team | (780) 962-0724