Shockwave Therapy at
Dynamic Physiotherapy and Wellness
Are you suffering from tight, torn, painful muscles? Stiffness in your joints, or chronic pain? If so, a solution that may be ideal for you is Shockwave therapy. It's appropriate for nearly anyone, from kids to senior citizens.
The conditions that we see benefit from Shockwave therapy most often include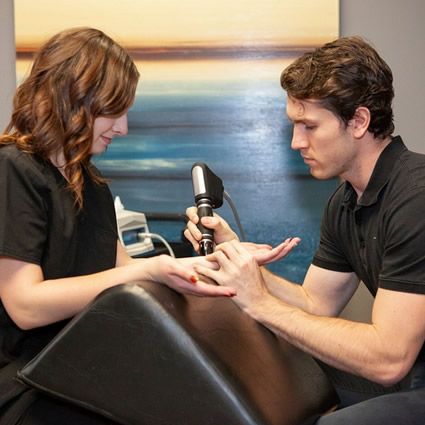 Trapezitis
Rotator cuff issues
Tennis elbow
Carpel tunnel syndrome
De Quervain's tenosynovitis
Trigger or mallet finger
Bursitis
Piriformis syndrome
IT band syndrome
Patellofemoral pain syndrome
Shin splint
Achilles tendinitis, tendinopathy or tear
Heel spur
Plantar fasciitis
Bunion
What Does Shockwave Therapy Do?
Shockwave Therapy is a fast and effective non-surgical method of eliminating or reducing many painful conditions of the musculoskeletal system. It delivers high pressure acoustic (non-electrical) waves which reduces or eliminates many types of chronic pain. Shockwave Therapy is non-invasive, safe, fast and effective in treating many problems that some patients have that were unable to receive effective medical treatment for in the past.
What to Expect
You may feel some mild discomfort during treatment. Shockwave is used as a part of your overall physiotherapy plan, promoting your healing and overall well-being.

Shockwave Therapy Spruce Grove, Stony Plain AB | (780) 962-0724