Auto Accident Care at
Dynamic Physiotherapy and Wellness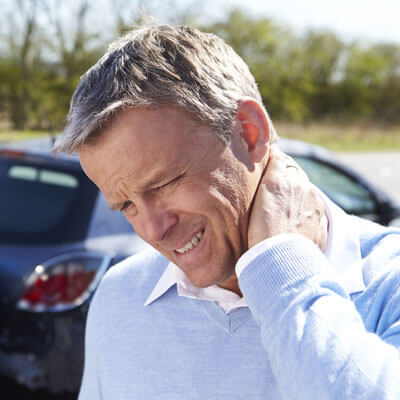 If you have ever been in a car accident throughout your life, you know exactly the damage that can occur to the body. After a motor vehicle accident, it is common to feel pain, stiffness, discomfort and soreness. Your body might have an overall achy feeling, and you are likely fatigued. A longer-term effect is the reduction of your functional endurance and performance.
Many are surprised to find it is not only their body that is affected by the accident. Anxiety, stress and nervousness can occur, which means that your trauma can also affect your mind. You may be less mobile, are not as flexible or strong as you used to be, and may have lost some of your overall quality of life.
How We Can Help
Commonly, our practitioners see people who have been in motor vehicle accidents to assist with different concerns. These include the easing of symptoms, improving strength, mobility and flexibility and getting the victim back to their pre-injury state. Physiotherapy or chiropractic might be appropriate for you. After a consultation, our practitioners will make their recommendations about how they believe you can recover most efficiently.
If you do not seek help, a broad range of symptoms can emerge, such as

Chronic pain
Tightness
Scar tissue formation
Stiffness
Tension headaches
Poor muscle flexibility and contractability
Trigger points/taut muscle bands

To avoid any of these from setting in, it is a good idea to get checked by a provider who is well-versed in addressing motor vehicle accident injury.
There are some things you will need to bring with at your initial visit:
Health benefit information
Medical records
The name of the adjuster and insurance claim number
How do you know whether you can help me?
During your examination
, if your practitioner uncovers anything that they believe is better dealt with at a medical facility, they will refer you. The evaluation process is designed to screen your suitability as a candidate for what we offer.
To build motivation, confidence and improve your mental state, we can send you to see a psychologist.
Is there extra paperwork to fill out?

Yes. We recommend that you arrive 15 minutes early to fill out paperwork, as motor vehicle accident cases require more paperwork than the typical new patient visit.
How long will it take me to recover?

That will depend on the nature of your accident, the injuries you have and how quickly you start getting better.
Will you recommend other providers that I can benefit from seeing?

Yes. In our office, we offer a range of services that might be suitable for your case. These include physiotherapy, chiropractic, massage and acupuncture. Your plan will likely involve a combination of these options.

Auto Accident Chiropractor Spruce Grove, Stony Plain AB | (780) 962-0724